Sapori Italiani
Simple food with indispensable and fresh ingredients.
Can't Stay? Try Carry-Out
Place an order to be picked up at your desired time (there may be a wait during peak times) by calling the number below. Curbside pick-up is available when you pre-pay, so have your credit card ready.
For carry-out orders, please call: (614) 235-4300
Please be patient with your order. Every dish is handcrafted and this takes time.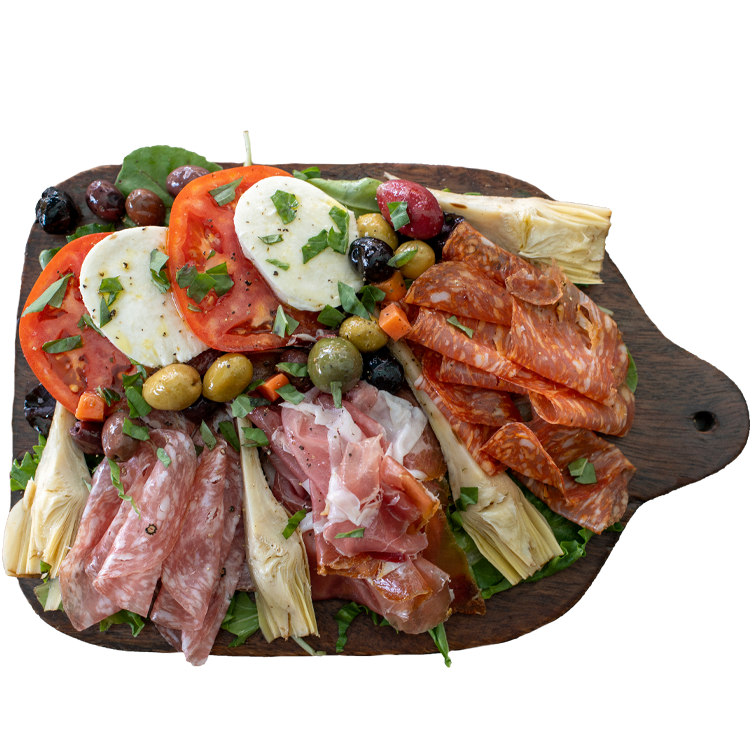 Grilled octopus, cherry tomatoes, arugula.
Spicy grilled shrimp, avocado wedges, caprese, EVOO drizzled toasted bread over mesclun.
Three meatballs (all beef) toasted bread, shaved parmigiano reggiano.
Layered slices of grilled eggplant, fresh mozzarella, tomatoes, balsamic vinaigrette, mesclun greens.
Mozzarella with a soft creamy center, cherry tomatoes, EVOO.
Italian rustic bread, tomatoes, EVOO, basil, aged provolone, mesclun greens.
Thinly sliced (RAW) tenderloin, arugula, shaved parmigiano reggiano, EVOO, cracked black pepper.
*EVOO = Extra Virgin Olive Oil
Toasted almonds, EVOO, lemon juice, balsamic vinegar, shaved parmigiano reggiano.
Romaine, tomato, carrots, cucumber, balsamic vinaigrette, pecorino romano cheese.
Red beets, fennel, pistachio nuts, mesclun, pistachio sauce, shaved parmigiano reggiano.
Fresh mozzarella, EVOO, tomato, basil.
Romaine, feta cheese, kalamata olives, roma tomato, balsamic vinaigrette.
*Caesar dressing contains: anchovy & small amount of flavored gin.
Chicken, carrot and potato
Add: Chicken Breast $7
Salmon $10
Shrimp $3ea.
tomato sauce, mozzarella, oregano
tomato sauce, mozzarella, pepperoni
mozzarella, prosciutto di Parma, arugula and shaved parmigiano reggiano
tomatoes, mozzarella, basil
sausage, caramelized onions, fennel, parmigiano reggiano
Pizzas available gluten free+$3
Slow braised veal osso buco served with safron risotto & parmigiano reggiano cheese
Bone in veal chop, pounded and breaded, served with mixed roasted vegetables
Sautéed Spinach, Seafood Lemon Beurre Blanc
Slowly braised, served with gnocchi in a mushroom demi-glace sauce
Fresh clams, spaghetti, basil and parsley. Choice of: white or red sauce
Sautéed mushrooms and capers in a lemon white wine sauce, served with spaghetti
Sautéed shrimp in a light spicy tomato sauce, garlic, capers, kalamata olives, served with spaghetti
Marinara, garlic, basil, parsley & parmigiano reggiano cheese
Sautéed shrimp in a spicy mushroom cognac cream sauce, served with spaghetti
Parmigiano reggiano cream sauce
Lightly breaded thin chicken cutlet, served with mesclun greens and lemon wedges
Toasted almond shell, roma tomatoes and pignoli nuts in a parmigiano reggiano sauce
Thinly pounded grilled chicken breast. Choice of: Julienne Vegetables or over Chopped House Salad
Fresh pasta pinwheels with a mix of fresh spinach and three cheeses, served over marinara
Breaded Veal Loin, Topped With Parma Prosciutto, Parmigiano Reggiano
Cheese, Served With Sautéed Broccolini.
Fettuccine In Peperonata Sauce (Bell Peppers, Onions and Tomatoes)
Choice Of Adding: Chicken Or House Made Sausage
Pasta Choice: Spaghetti, Capellini, Fettuccine, Gnocchi, Penne | Sauce Choice: Alfredo, Marinara, Olive Oil, Pesto, Meat Sauce +$3
Contorni – sautéed or steamed
Broccolini
Brussels Sprouts
Julienne Vegetables
Mushrooms
Spinach (Sautéed Or Steamed)
IF YOU OR A FAMILY MEMBER HAS A FOOD ALLERGY, PLEASE ALERT YOUR SERVER
Vegetarian, Vegan and Gluten Free options are available on most dishes, please ask your server for guidance.
*Consumption of raw or undercooked meat, poultry, seafood & eggs may increase your risk of food bourne illness. DOH-FDA
Traditional Cannoli (3 Pieces)
Three Layer Chocolate Cake
Cup of cream filled Profiteroles, topped with chocolate cream
Rich chocolate mousse & zabaione topped with chocolate curls
Pistachio & ricotta creams, sponge cake, crushed pistachio sides
Lemon sorbet in a natural lemon shell
Lemon gelato with a heart of limoncello & meringue sprinkles
Elevating Cocktails to an Artform
Wine, Bourbon, Whiskey, and Mocktails crafted to impress.
With the same care and honest ingredients we use with our food, Giuseppe's drink menu is unlike any other in Central Ohio. From renowned seasonal cocktails with fresh and innovative flavors to wines sourced from the most acclaimed wineries across Italy and California, and even our vast selection of Bourbons, our bar is the perfect complement to our kitchen. 
For the last decade, Giuseppe's bar has been the talk of the town. Discover for yourself why our hand-crafted cocktails, expertly selected alcohols, and high attention to detail have put the Ritrovo on the map.